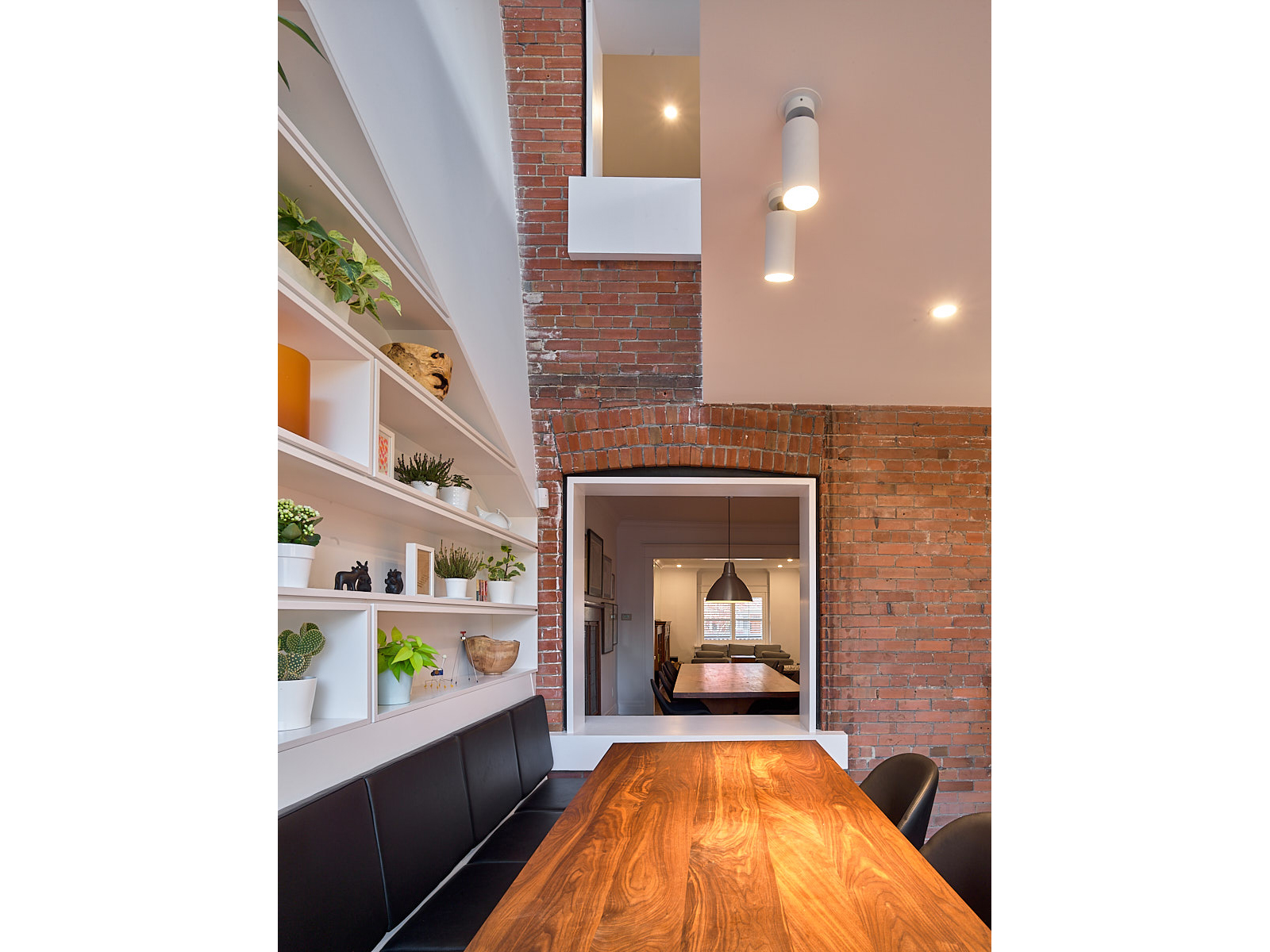 BlackinBack House
Toronto, Ontario
[a+id+la] Residential
263 sqm | 2830 sqft
2019
Project Team large [medium] design office
Nadia Cannataro, Francesco Martire
Structural Blackwell
Mechanical Elite H.V.A.C. Designs

Photographs Scott Northsworthy

The project is a 500 sq ft two story rear addition to an Edwardian style single family dwelling in mid-town Toronto. The project called for the demolition of an existing two storey late eighties addition, both spatially and energy inefficient. The clients loved their neighbourhood and their home, but required a more functional space tailored to their family routines and lifestyle.

The diagram for the project is founded on the construct of the open floor plan, enhanced by an open section. Spatial fluidity is created in the home moving through thresholds of old and new. The custom-built galley kitchen, existing windows adapted into millwork lined openings, make use of multi-scalar apertures from old to new. The open section continues the fluidity between floors, creating opportunities for life on the ground floor to overlap with that of the second floor. Meal preparation on the ground floor occurs concurrently with painting and other crafts on the second floor. Separate spaces, separate messes, mixed aromas, mixed sounds.


The floor aperture, flanked by custom millwork dubbed The Sculptural Cabinet of Curiosities housing a breakfast eating, chess playing, homework doing, crossword completing, novel reading banquette at its base and rising through the opening, is a vertical social mixing valve for the family. It negates the conventional isolation of programs by floor, and encourages communication and interaction between family members, and guests.

An expanse of glazing along the back facade allows for an extension of the interior space and a connection to the landscape of the rear yard. The window placement on the second floor serve as frames to specific existing tree canopy. An exterior space on the upper floor of the addition puts the user in the midst of the treetops. It uses the sculpted line of the roof and soffit, and the guard as a frame for an ever-changing composition of sky and tree foliage. The east facing glazing fills the interior space with beautiful morning light. The treed context is a natural brise soleil filtering the sunlight during the summer months while allowing full sun access in the winter assisting to warm the black tile and its radiant floor warming beneath. The operable skylight over the second-floor opening encourages natural ventilation through the space.

A few simple strategies of connectivity; one between old and new, a second between floors, and third between interior and exterior, developing unique millwork, while only adding minimal floor space has radically transformed this rear addition into an efficient yet dynamic space. It is filled with the cacophony of four family members doing a multitude of activities seemingly remote from one another, yet still interacting within this sunlit filled social hub of the home.